Orthodontics
In our Dental Clinic in Barcelona we offer all kind of orthodontics and the best treatments available for teeth alignment.
Currently there are several types of devices for orthodontics. We have  all the systems,  from the traditional ortothontics with brackets to the latest orthodontic technology with the Invisalign system.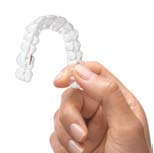 Although formerly orthodontic treatments were mostly used by children and young people, today a lot of adults use this kind of treatments to align teeth.
When the child has some sign that requires orthodontic treatment it is very important to be checked by the orthodontist. Sometimes preventive treatments are require for small children to avoid major problems in the adulthood. This way if in the future the orthodontic treatment is needed, will be more simple.
 Types of orthodontics
Orthodontic treatments with Brackets
This is the most commonly used system in orthodontics. There are different materials.
Metal is usually used and is very effective. Zafiro is the most aesthetic kind of brackets, is very discrete and the result will be great just as with metal brackets.
Currently in orthodontics, zafiro is the material most used by adult patients when they ask for brackets.
Invisable orthodontic treatment with Invisalign
Invisalign is the device used when people do not want to align teeth with brackets.
Invisalign system is confortable, is invisable and will staighten teeth without metal or wires.
With Invisalign system the patient won`t have any limitation for eating or cleaning.
It is removable but have to be used the whole day to obtain the best results.
Functional Orthopedic
This kind of treatment is exclusively intended for patients in growth phase.
In Orthodontics the functional orthopedic helps early prevention of malocclusions. Also it is apply to supress oral habits like atypical swallowing, thumb sucking or others.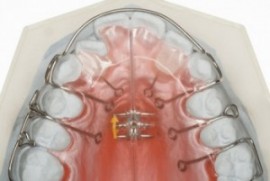 Whatever the patient need, in our Dental clínic in Barcelona, we offer the best orthodontics alternative for each case.